16 Halloween Costume Ideas with Face Masks for 2020
5 min read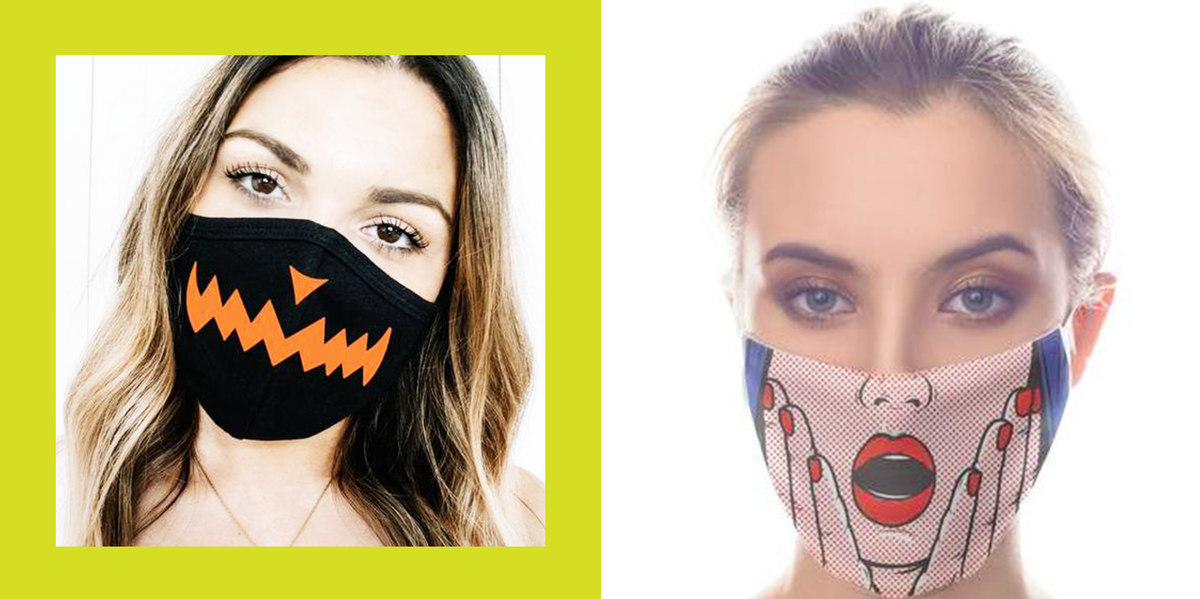 Halloween is already next month, and yeah, (for the thousandth time) it's definitely not going to look normal this year. No one should really be going door to door for candy or hosting huge parties in light of the ongoing global pandemic (just don't do it!), but that doesn't mean you can't have some fun and dress up with your mask for a small get together or to go on a spooky walk around your neighborhood to take in all the decorations.
Just a heads up though, per the CDC: "Do not use a costume mask (such as for Halloween) as a substitute for a cloth mask unless it is made of two or more layers of breathable fabric that covers your mouth and nose and doesn't leave gaps around your face." So rather than putting an uncomfortable rubber or plastic mask over your face, just stick with your typical fabric ones for the holiday. These Halloween-themed designs are perfect for the occasion and can really add a lot to your costume, while still keeping you and everyone else safe. Here, 16 Halloween costume ideas with face masks that you can try out in October.
Advertisement – Continue Reading Below
1
winifred sanderson from 'hocus pocus'
Hocus Pocus Mask
CassysTopShop
etsy.com
$5.00
Fans of the classic Halloween flick will appreciate this Winifred mask. Get a red wig, give yourself two messy buns, throw on a green dress, and you'll transform into the witch. 
2
sally from 'the nightmare before christmas'
Nightmare Before Christmas Face Mask
StuffWrightHere
etsy.com
$13.50
You can wear this mask on its own, or go all out with Sally-inspired makeup by painting your face blue, drawing on stitches with eyeliner, and getting a long red wig. 
3
a spooky pumpkin
Pumpkin Face Mask
SymbolicImports
etsy.com
$13.39
Turn yourself into a scary pumpkin with this face mask. If you want to go all out, you can give yourself an orange smokey eyeshadow look with a dramatic cat eye.  
4
a reptile
Emerald Green Croc embossed Mask
six20style
six20style.com
$40.00
Be a cold-blooded reptilian creature with this green croc-embossed mask. You can also add tinted yellow contacts and give yourself matching face paint with drawn on scales if you're super artistic. 
5
a tourist
Green Envy Combo
Meji Meji
mejimeji.co
$60.00
We all had to cancel our vacations due to COVID (a very necessary precaution!), but that doesn't mean you can't still be a tourist. Don this bucket hat and mask combo, a colorful floral shirt, flip-flops, and cutoffs to make it seem like you're traveling somewhere this Halloween. 
6
a hippie
Handmade Floral Face Mask Patterns
A pretty floral mask might seem pretty simple, but you can amp up the boho vibes with braided hair, daisy-like eye makeup, a suede fringed vest, and flares. (Psst, watch this tutorial for some ideas!) 
7
Beyonce in 'black is king'
Black AbstractFace Mask
CanDidArtAccessories
etsy.com
$20.00
There were So. Many. AMAZING looks in Bey's "Black Is King" visual album, and a couple of them were black and white like this two-piece blazer and short set or this off-the-shoulder dress. This contrasting abstract mask would go with either if you're down to recreate any of her jaw dropping 'fits. 
8
a leopard
Mindful Masks
Ahh, yes, a classic costume. Except this year be a leopard instead of a regular house cat with a matching mask. Give yourself a standout cat eye and add some ears and you're done! 
9
a rainbow
Ice Me Out Mask
Muur Swagg
muurswagg.com
$23.00
Who says your Halloween costumes needs to be a specific character or person? Go the abstract route and just be a freakin' rainbow with a bold face mask and you can do as little or as much as possible. You can add multicolored eyeshadow, tint your hair, or wear something rainbow-inspired to match your face covering. 
10
outer space
Washable Face Mask
CreativeFabricCrafts
etsy.com
$5.00
Fun fact: This mask glows in the dark!!! You can add glow-in-the-dark stick ons to the rest of your body to keep with the theme or give yourself a starry makeup look—up to you!
11
Minnie Mouse
Face Mask, Red with White Polka Dots
sillydogpetstore
etsy.com
$7.00
Minnie Mouse is basically synonymous with red-and-white dots, and they happen to look pretty dang cute on a mask. Your Disney mouse ears will come in handy for this one too. 
12
a spiderweb
Fabric Mask Spiderweb Face Mask
CherryTiki
etsy.com
$9.95
There are some different directions you can take with this mask: You can turn your head into a spider by making a headband with eight legs (felt straws are your friend) or you can also use face paint or eyeliner to make the rest of your face look like a web. 
13
a vampire
Vampire Teeth Face Mask
YFGearMasks
etsy.com
$9.99
A dark eyeshadow and fake blood will help you complete this blood-sucking costume. 
14
a skeleton
Skeleton Face Mask
SteenerzDesigns
etsy.com
$9.00
A skeletal bodysuit is the perfect addition to this bony face mask  to wear for Halloween.  
15
a pop art painting
Face Mask – Fabric Pop Art Adult Face Mask
TheKeepsakeShopUK
etsy.com
$18.62
Roy Lichtenstein's pop art is always a go-to costume, and this face mask does a lot of the work for you! Continue the dots with red eyeliner over the rest of your face if you wanna make it cohesive. 
16
someone from 'Alien'
Alien Face Hugger Mask
ceeleather
etsy.com
$250.00
Okay, so this mask is pricey, but it was so amazing I HAD to include. The facehuggers from Alien are frightening lil things, but since they also cover your mouth and nose they're actually kinda useful? 
This content is created and maintained by a third party, and imported onto this page to help users provide their email addresses. You may be able to find more information about this and similar content at piano.io
Advertisement – Continue Reading Below