33 Coronavirus Halloween Fabric Face Masks for Kids
8 min read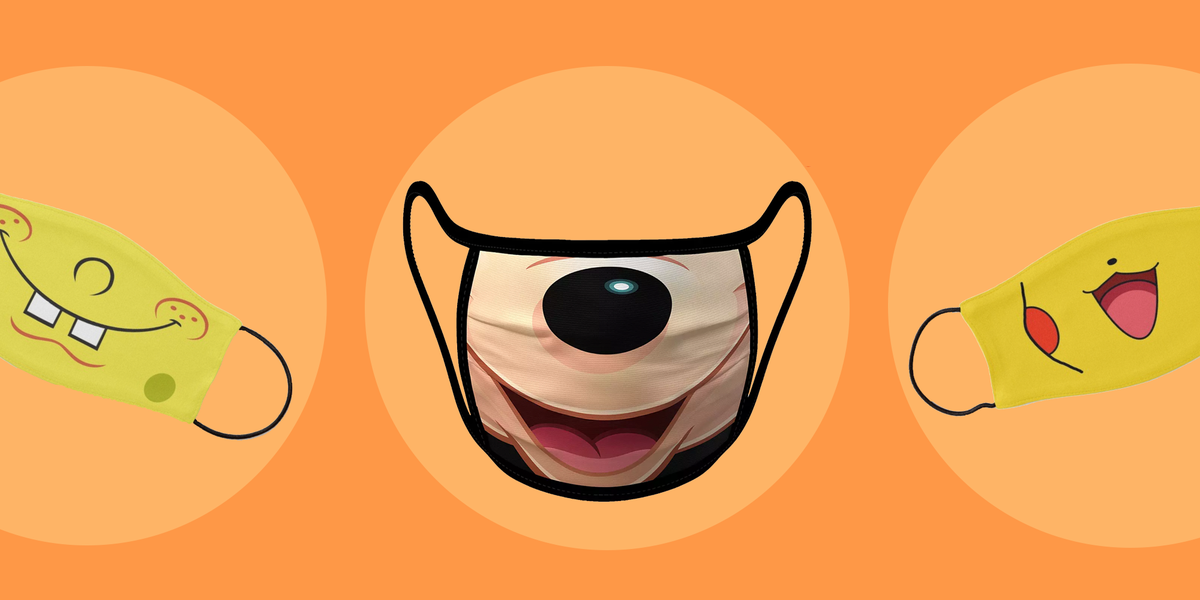 Courtesy Images / Danielle Carson
By this point, your little one has probably had plenty of practice wearing a face mask in public — but as all parents know, getting kids to keep them on can be a challenge. But Halloween may be the one time kids are actually excited to wear 'em, since a spooky-fun cloth face mask can be an integral feature of your kid's Halloween costume. There are so many great themed Halloween face masks being made for kids this year, whether they feature a classic Halloween theme, a favorite superhero, or a cute animal.
If you're planning a night of trick-or-treating for your child — or, if you're planning on inviting a few family or friends into your home for a Halloween party — you and your child should be properly wearing a face mask. This is especially true if you will spend time in close contact with anyone who doesn't live with you, even if you stay outside: "Parents should make sure their kids' costumes have masks incorporated into them," says Sandra Kesh, M.D., an infectious disease specialist and the deputy medical director at New York's Westmed Medical Group. "And if the mask doesn't look appropriate for facial coverings in public based on federal recommendations, meaning there's holes or the masks' structural integrity is questionable, parents may want to add a cloth mask as an additional layer of protection for their kids and the community."
Note that cloth-based face masks aren't as efficient in air filtration as medical-grade respirators like N95 masks, but they provide a barrier between your child and other children in the vicinity in case someone is unknowingly sick. A mask can help to trap infectious airborne droplets and particles that can impact others in close contact, which is crucial for children, as recent research published in JAMA Pediatrics suggests that children can carry SARS-CoV-2 virus particles in their noses and throats for weeks even if they show no symptoms, according to data collected in South Korea.
Help your kids' make this the best Halloween it can be with a fun costume idea complete with one of these cloth-based masks. Textile experts in the Good Housekeeping Institute have analyzed dozens of cloth-based face masks made in kids' sizes. These picks are all designed to easily fit into an existing Halloween costume, are made to fit snugly against your child's nose and mouth and will keep up with them as they hit the trick-or-treating route this Halloween.
1
Critter Face Masks With Laundry Bag
Old Navy
oldnavy.gap.com
$5.00
Sold with a laundry mesh bag, these lightweight cotton poplin masks are durable enough to wear every single day. But since Old Navy has made 18 different patterns — from lions to sharks and ducks to bears — you can certainly purchase a unique option for a brand new Halloween costume. Bonus? They're sold in adult sizes, so the whole family can get in on the Halloween costume fun!
2
Cloth Face Masks 4-Pack Set
Disney
shopdisney.com
$19.99
If you're little one can't get enough of Disney, they'll love these character masks that can serve as part of a Disney Halloween costume. These adorable masks come in two different sizes for children; small (for younger preschoolers) and medium (for adolescents). 
3
Mask Buddies
Cubcoats
cubcoats.com
$14.00
Parents have flocked to Cubcoats for their soft, breathable face masks featuring animals. But Cubcoats' newer Mask Buddy wristlet makes taking an extra face mask (if you plan to take a mask break or change masks altogether) so much easier.
4
Kids' Dinosaur Mask
Vistaprint
vistaprint.com
$13.00
Maybe you have a science fanatic or future geologist on your hands? This prehistoric print is super fun and eye-catching; you'll rest easy knowing that this mask also comes with a filter pocket for extra protection. 
5
Princess and Frozen Cloth Face Masks (4-Pack)
Disney
shopdisney.com
$19.99
Disney's set of Princess-inspired face masks include options for those who'd like to dress up as Elsa or just want a classic medley of Snow White, Cinderella, Belle, Arielle, Tiana, Jasmine and Pocahontas.
6
Kids Face Mask (5-Pack)
Helping your little one transform into one of their favorite school supplies for Halloween has never been easier. Our textile experts love that this set of colorful masks come with a mesh laundry bag so that you'll never lose one in the wash.
7
Licensed Character Face Masks
CarpeDiemWorkshoppe
etsy.com
$6.00
One of the most popular kids' face masks on Etsy with multiple size options, this seller has created vivid prints featuring popular characters. You'll be able to find masks and prints for Baby Yoda, Mickey and Minnie Mouse, Marvel superheroes, Harry Potter and more. 
8
FACEMask Yellow Buddy Kids Mask
LisaDylanArt
redbubble.com
$12.49
Awww! Your little tot will look adorable as Pikachu, as this mask is made in two different sizes to accommodate different ages. The one shown (extra small) is for kids between the ages of 3 and 7; but there's a small available for kids aged 8 through 12. 
9
Custom Face Mask
Snapfish
snapfish.com
$19.99
You can customize any of Snapfish's kids-sized face masks with their initials, first name or other art options. We love their wide array of animal faces printed on a cotton-polyester blended mask that has a pocket to hold a carbon filter. 
10
Pirate Skull Crossbones Face Mask
ShopStudioSisters
etsy.com
$7.95
With almost 1,200 5-star reviews, this Etsy seller has created tons of Halloween-friendly face masks for kids. This pirate-themed option is made with two layers of cotton and elastic ear loops. 
11
Pandamic Kids Mask
Typhoonic
redbubble.com
$12.49
Paired with the right Halloween makeup, dressing up like a panda is so easy thanks to this polyester mask.
12
Spongebob Squarepants Kids Mask
Indestructibbo
redbubble.com
$12.49
13
Just Play Kid's Face Mask
Just Play
target.com
$17.99
If you're looking for a disposable option for kids, these surgical masks are equipped with a shaping clip and a filter layer. Each pack comes with two different styles. 
14
Superman Classic S Shield Logo Face Mask
MaskClub
maskclub.com
$14.99
Is your little one angling to be a superhero this year? Any Superman or Supergirl in training needs this polyester-printed 2-sided mask; plus, MaskClub has a slew of other superhero options to choose from. 
15
Kids' Scooby Doo Face Mask
Warner Bros.
target.com
$10.00
Thinking of going trick-or-treating as Mystery Incorporated? Kids will love dressing up as Scooby Doo thanks to this comfortable cotton-based mask that proudly features the detective pup.
16
Yellow Minions Face Mask
MantraJewel2011
etsy.com
$4.41
17
Woody 'Toy Story' Face Mask
J3Spersonalizedparty
etsy.com
$11.00
Dressing up as Woody or Jessie can be done in so many ways, even without a trip to a costume store for a Toy Story costume. This cloth-based mask comes in five different sizes.
18
Simba Kids' Face Mask
ProfCatPardus
redbubble.com
$12.99
Children can find plenty of Lion King-inspired costumes online to wear this year (we particularly love this Simba option). But why not complete the look with a matching mask? 
19
(2) Kid-Size Unicorn Face Masks
Top Trenz
thepaperstore.com
$19.99
You shouldn't be sticking a unicorn horn on a mask, but if you plan to dress your little one up as a unicorn this year, this mask will have you covered.  The adjust-to-fit mask is made with cotton and a neoprene finish. 
20
Baby Shark Kids' Face Mask
Ivy and Pearl
ivyandpearlboutique.com
$11.00
21
Elmo Face Face Mask
MaskClub
maskclub.com
$14.99
It's a great option for any toddler who loves to keep up with Elmo and friends on Sesame Street. 
22
Sesame Street Abby Face Face Mask
MaskClub
maskclub.com
$14.99
Sesame Street is the ultimate costume inspo for creative parents, and we love how MaskClub's branded options make it so easy to make a whimsical costume for any girl or boy. You'll find all of MaskClub's Sesame Street options here.
23
The Nightmare Before Christmas Masks
MarthaLovesCraft
etsy.com
$8.99
Do we have any Jack Skellington fans in the house? You'll love the Oogie Boogie-inspired masks featured by this top-selling Etsy option, plus all of the other Disney themed options that even adults will love.
24
Trolls 2-Pack Reusable Fabric Face Masks
Yay, Trolls! Your little one will love paying homage to their favorite film of 2020 with these adorable masks. If your kid isn't loving the pink, there are a few Trolls options available at Target.
25
Paw Patrol Face Mask with Filter Pocket
theblueskye
etsy.com
$15.99
This best-selling face mask design is a great way to tie together a quick DIY homage to your little one's favorite cartoon.
26
Doll Print Face Mask – Adjustable
L.O.L. Surprise!™
claires.com
$7.00
Dressing up as your favorite toy has never been easier! The ear loops are adjustable for comfort, too.
27
Doctor Role Play Costume Set
Melissa & Doug
amazon.com
We love a concept that really ties an entire costume together, and Melissa & Doug have thought of a few that can't work without masks!  this adorable homage to our healthcare heroes.
28
Halloween Face Mask and Dog Bandana
Milk-Bone
amazon.com
$6.99
29
Kids Contour Face Mask (3-Pack)
These masks have adjustable ear straps so that you can secure them to most kids' faces. The two critter options are great for little ones who can't get enough of their animals; there are even options for cat lovers, too.
30
Candy Corn Washable Reusable Mask
Megpo
amazon.com
Equipped with a nose clip and a pocket for a carbon filter, this joyfully themed mask is a perfect option for older kids and teens.
31
Customizable Princess Tiara Face Shield
Add an extra layer of protection to an existing costume! Kids will still have to wear a face mask beneath a shield, but this cute customizable option will remind little ones to not touch their face.
32
Kids Halloween Masks (Family 6-Pack)
RafiNova
rafinova.com
$28.00
Thinking of joining your little one in a matching look? Check out these really fun, whimsical prints from RafiNova. They come equipped with adjustable ear loops.
33
Reusable Cloth Kids Face Mask Set
Crayola
amazon.com
$14.99
This content is created and maintained by a third party, and imported onto this page to help users provide their email addresses. You may be able to find more information about this and similar content at piano.io